A 17,000-pound stainless-steel dinosaur handmade in the Fraser Valley is getting ready to head to its new home overlooking Okanagan Lake.
Metal sculptor Kevin Stone and his wife Michelle of Chilliwack were putting the finishing touches on a Tyrannosaurus rex they call Alice on Thursday (Sept. 14), buffing out heat marks from welds and polishing her to a shine.
"We've been doing the inside of the mouth and around the eyes making sure it's super clean and fresh looking," Kevin said. "We want to have it all wiped down and clean before we ship it."
On Tuesday (Sept. 19) the Stones will be following behind the trailer that will haul it 325 kilometres from Chilliwack to Penticton.
Because the 50-foot long T. rex is too big and cannot travel down the highway in one piece, it will be shipped in three sections: the head and chest, the belly and hind legs, and the tail.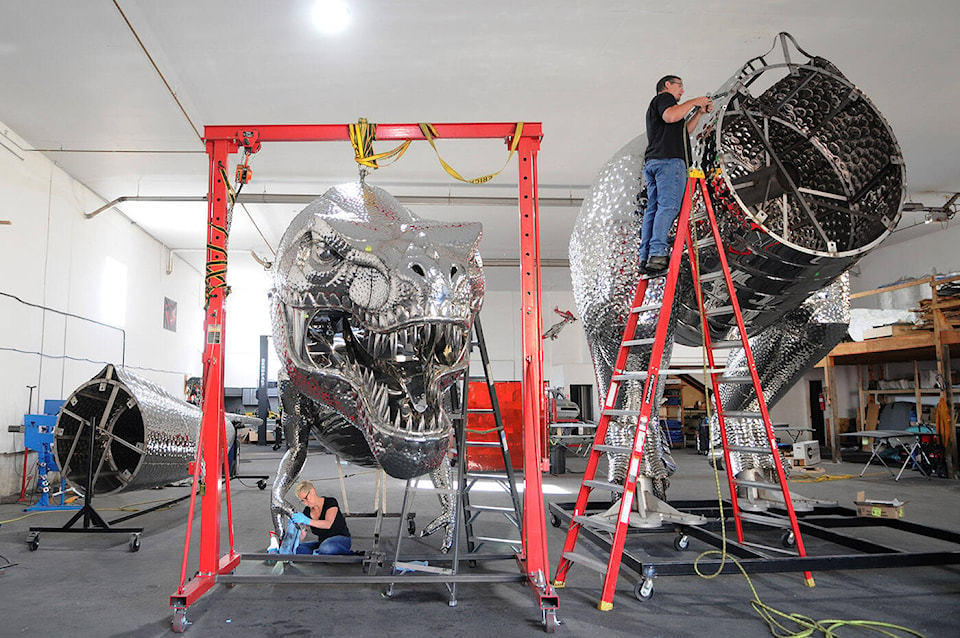 And although they have been working on it for more than two years, they still don't even know what she looks like completely assembled.
Alice is so huge, the head and chest portion of her has always been separate from her belly and thick hind legs. She's so tall, she doesn't fit in the Stones' workshop in one piece.
"We're super excited to see it together because I don't even know what she looks like," Kevin said. "It's stressful."
He admits he's already losing sleep over it.
It'll take all day to move the dinosaur made out of mirror-polished, food-grade stainless steel. They're starting around 7 a.m. on Sept. 19 where it'll be loaded onto a trailer. Kevin figures they'll be in Penticton around lunchtime.
Once there, the belly/leg section will be bolted onto a 14-foot-by-14-foot concrete pad. He'll then bolt on the tail to counterbalance the sculpture in order to put her head on.
"I hope it fits. I don't know what to expect," Kevin said.
All of the bolts will be fastened inside the T. rex and once Kevin's done, he'll climb out a hatch located at the top.
When she's completely installed, she will stand about 20 to 23 feet tall at the head.
"We're hoping it fits like a glove," Michelle added.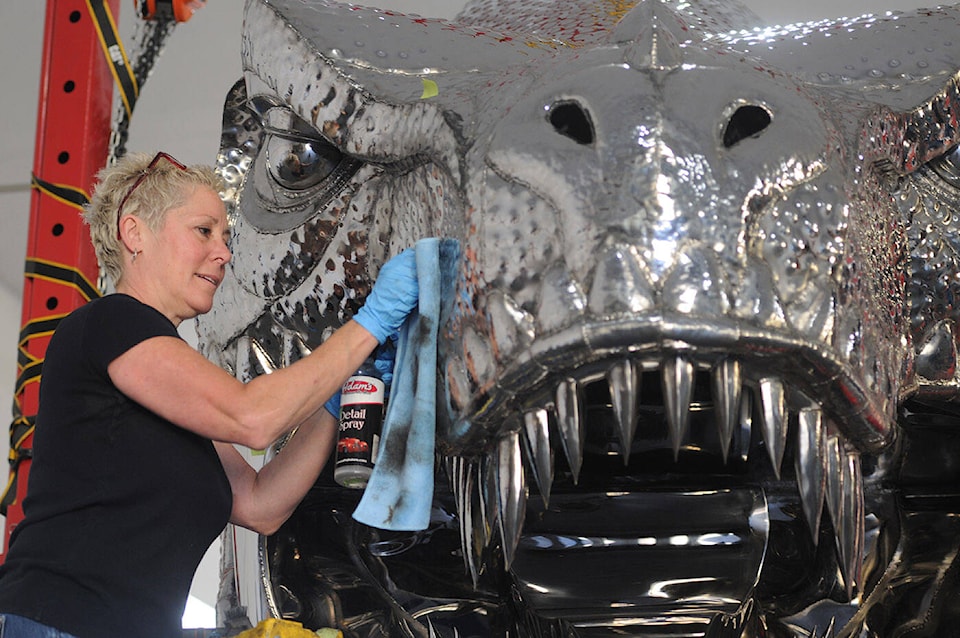 The man who commissioned it dreamed of owning a giant metal dinosaur since he was a kid, Kevin said. The buyer said it was a female T. rex, and so Kevin named her Alice after a dinosaur from a 1970s children's TV series called 'Land of the Lost' that he watched when he was young.
Alice was purchased for $380,000 USD and even though it'll be installed on a private waterfront property, the public will still be able to see it without going on the property.
The massive T. rex will be on the east side of Okanagan Lake visible to anyone walking along the Kettle Valley Rail Trail. It's less than a kilometre north of where the trail meets a residential street called Vancouver Place.
"I'm really excited and I'm really happy that it's going to a public space in B.C.," Kevin said. "This is probably one of the largest sculpture installations in Canada. There's only a handful of really big ones and this one's up there."
It's the only sculpture of his on display in Canada for the public to see. All of his other work is either outside the country or in private places in Canada not visible to the public.
It took 26 months to complete. Kevin hired two welders – Josh Guretzki and Brandon O'Shea – who also did a huge amount of labour.
"They worked hard on it," Kevin said.
The Chilliwack metal sculptor always has more than one project on the go.
Over the past two years, he has finished a number of other pieces including a 15,000-pound, fire-breathing 'Game of Thrones' dragon, and a giant Elon Musk head that was part of a larger and very strange rocket/goat-themed sculpture for a cryptocurrency company.
READ MORE: Chilliwack metal sculptor's business soars on wings of 15,000-pound fire-breathing dragon
READ MORE: Elon Musk head by Chilliwack metal artist now complete, ready to be shipped
During the time they were building the T. rex, they encountered issues.
They realized part of it didn't look right so they re-engineered the entire belly, making it lower by a few feet.
And for several months, they didn't even know where the T. rex was going to be heading – the owner changed his mind at one point with plans to have it shipped to his other home on the Cayman Islands. It was confirmed only about three months ago that it would be staying in B.C.
But the biggest challenge was the workshop space.
"Not having the correct space to be able to assemble it properly and stand back and look at it" was the most complicated part of the build, Kevin said.
Now on Sept. 19, Kevin will finally be able to do exactly that. Seeing Alice complete for the first time ever will be an early birthday present for the metal sculptor whose birthday falls on Sept. 20.
"I can't wait to see it," Michelle said. "To actually stand back and see it together is going to be amazing."