Tires, cellphones and drones. Wedding rings, boats and a car fender.
Those are just some of the items Steve Clegg has hauled out of Cultus Lake during some of the hundreds of dives he's done to pick up submerged trash.
The Chilliwack diver, along with a team of seven others will be at the lake on Saturday, June 24 for 'Meet the Protectors: Restoring Cultus Lake's Hidden Depths,' an event organized by Tourism Ch'illiwack where the public is invited to watch as they pick up garbage from the lake's floor.
The event will be held in conjunction with Cultus Lake Day, a full day of fun and activities, organized by the Cultus Lake Park Board.
Clegg and his team have been picking up trash from the bottom of the lake since the beginning of the pandemic. He does 'free diving' where he uses a snorkel and holds his breath while swimming in the more shallow areas while some of his buddies scuba dive in the deeper sections.
Most of the bigger "legacy" items are out of the lake and now the crew mainly does "maintenance cleans," he said.
Larger items include car parts, tires (some as dock bumpers, some not), cowboy boots, construction materials, and various items used as boat anchors including car engines. They've also removed sunken boats like kayaks, canoes and a sailboat hull.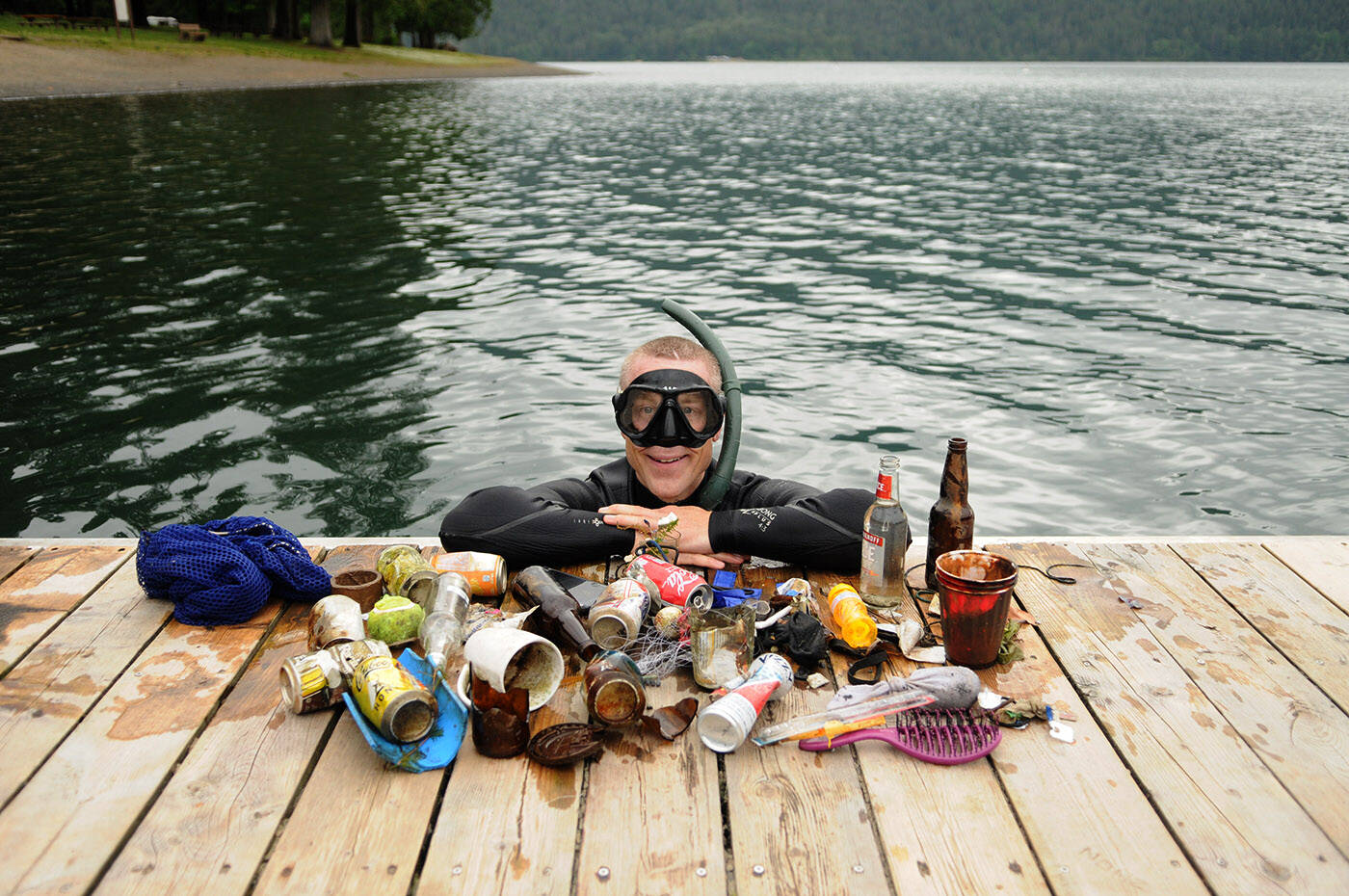 On a recent cool spring afternoon when The Progress met up with him, Clegg picked up items more commonly seen these days like bottles and cans, a hair brush and elastics, a cellphone, a tennis ball, and assorted plastics. Sometimes they're even able to return cellphone and drones to the owner so that they can get their photos back.
So what will Clegg teach folks on June 24? How can non-diving people help keep Cultus Lake beautiful?
"I operate on a saying that 'If you can, you should.' I can dive… so I believe that I should," he said. "What I'm hoping people can do is just keep the material from getting into the lake in the first place."
The most interesting item he found over the past three and a half years was a hardcover book that was taped closed. Engraved on the cover was a person's name. After opening the tape, he found the inside was hollowed out and it was filled with rocks.
"Inside they left a hand-written note and it was quite a dramatic note," Clegg said. "It looked like someone just needed to write out everything that was on their chest and send it out to the universe to move past something."
His most favourite find was a double CD set of the BeeGees. The discs still worked and his kids love the music, so now it's their road trip playlist.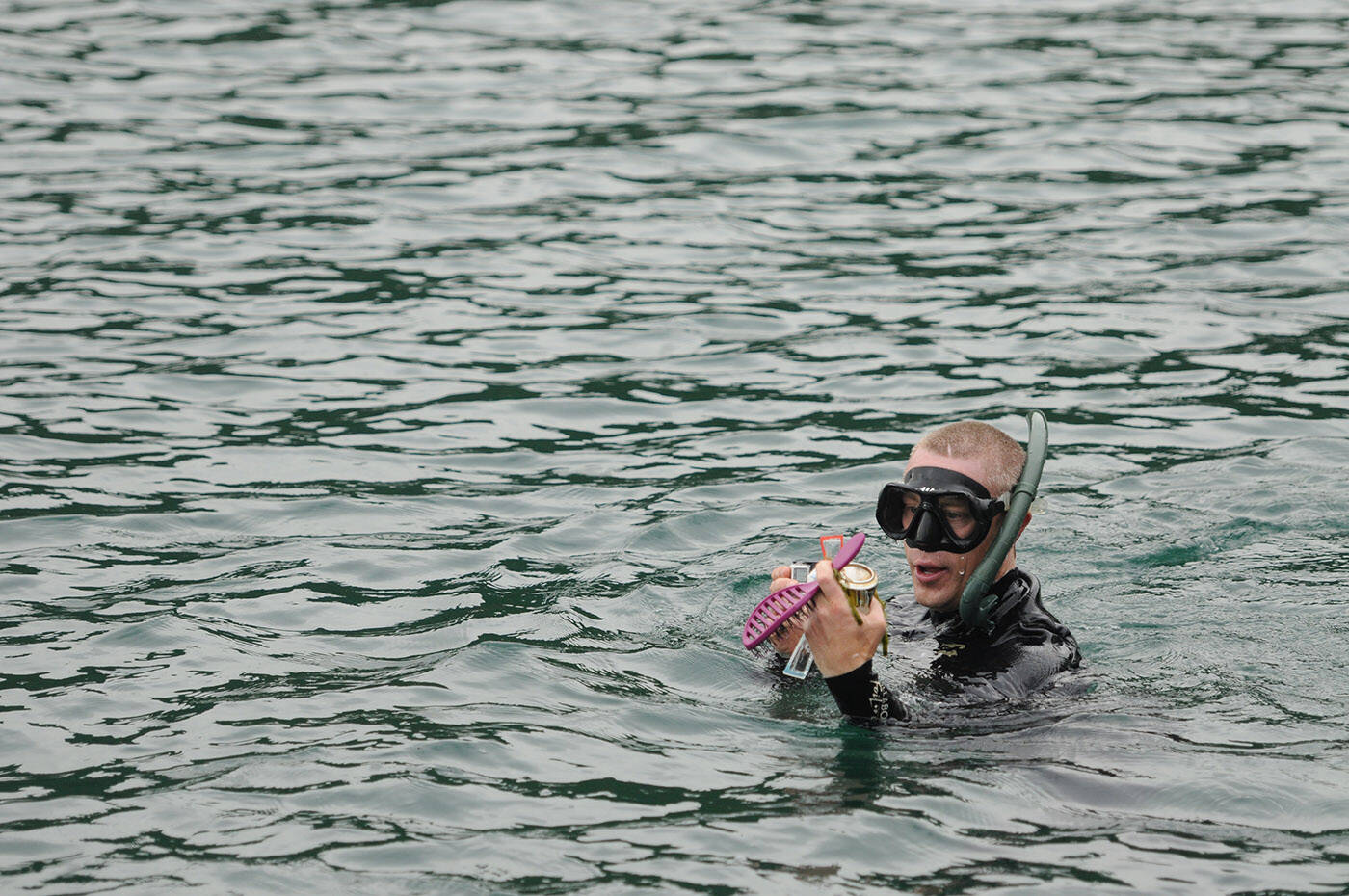 Clegg dives at the lake regularly and it's not uncommon for him to go four or five times a week.
"It's a nice after-work activity… I swim for an hour, get a bag full of garbage, watch some fish, maybe find a treasure or two and help someone out who's lost something."
The purpose of the Meet the Protectors event is to celebrate the work that Clegg and the other divers do in cleaning garbage from the lake, as well as promote sustainable and responsible tourism through Tourism Ch'illiwack's 'Protecting This Gift' initiative. The action is call to embrace the beauty of Chilliwack while treading lightly upon its landscapes, while inspiring and educating visitors to become active participants in the ongoing efforts to protect and promote the long-term sustainability of the area.
"I love being outside and the feeling of being underwater where it's silent, and the ability to escape our world and enter a different one… spend time with fish and appreciate something that not many people get to see. To be immersed in that is a pretty special thing."
People can meet Clegg and his diving team during the Meet the Protectors: Restoring Cultus Lake's Hidden Depths event at Cultus Lake Day on Saturday, June 24 from 11 a.m. to 3 p.m. at Main Beach. Look for the Tourism Ch'illiwack visitor information booth (located next to Main Beach Boat Rentals) at Cultus Lake Day for more details on the 'Protecting This Gift' initiative.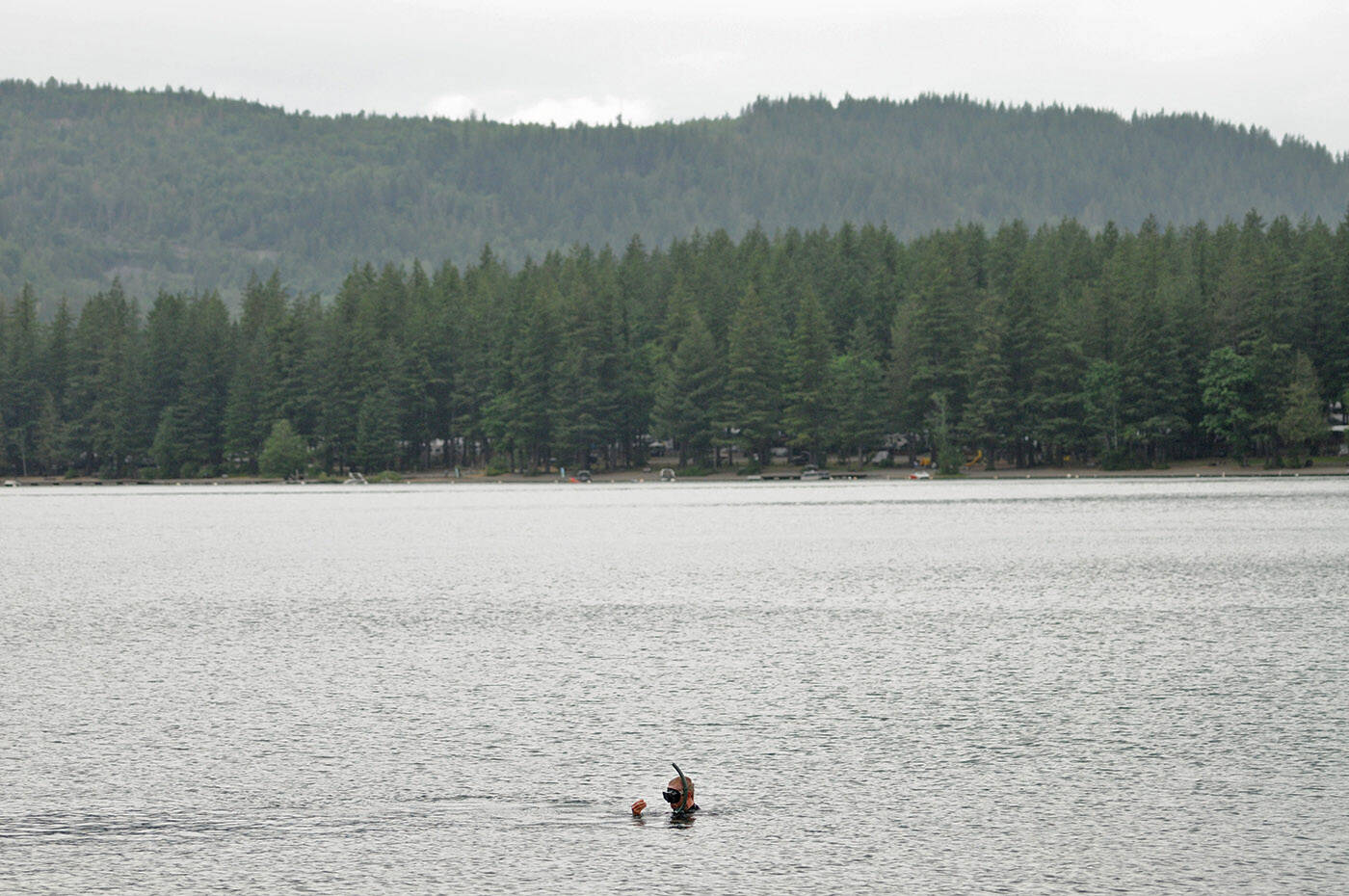 ---
Do you have something else we should report on?
Email: jenna.hauck@theprogress.com
Twitter: @PhotoJennalism