Whether you've already applied for programs at the University of the Fraser Valley, or you're exploring post-secondary options, you don't want to miss this year's UFV Open House!
Welcoming students and their supporters from 10 a.m. to 2 p.m. Saturday, Oct. 21 on the Abbotsford campus, the informative, fun-filled day is a perfect opportunity for potential students and their parents, guardians, educators, high school counsellors, and friends to discover all UFV has to offer.
"Open House is one of my favourite times of the year. You can meet your future instructors, talk to current students, and we have great prizes up for grabs," says Sarah Graham, UFV's Senior Associate Registrar. "Faculty and staff will be standing by to answer questions, show you around the campus, help with an application, and more. That's one of the things that makes UFV so great. There is always someone to help you around the corner – even before you become a student."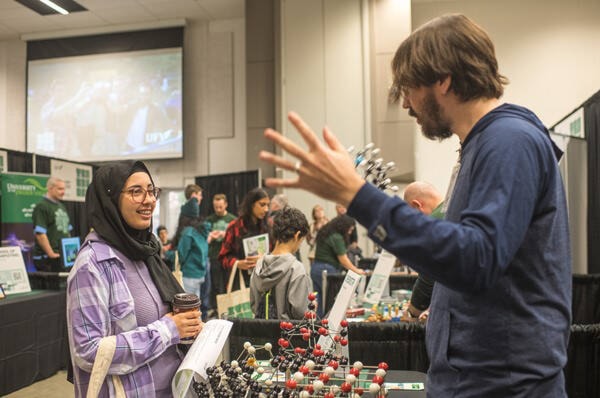 Why attend the open house?
Hosted in the Student Union Building and Athletic Centre, the Open House is a perfect opportunity to get a taste of life at UFV:
Ask faculty questions about programs and discover paths you might not have considered
Chat with current students for first-hand insights into university life
Tour the campus – what better way to get excited about student life than to explore the grounds?
Attend a workshop and get a taste of what it's like to study at UFV
Connect with student services and recruiters to learn more about life at UFV
Grab a tasty bite from one (or all) of the food trucks
Win great prizes — including one of two $500 tuition credit prizes, bookstore gift cards, surprise bags, and more!
RVSP at ufv.ca/openhouse to be eligible for prizes, and keep an eye on your inbox for event updates and exciting opportunities. You'll also enjoy free parking for the event.
If you're unable to attend the Open House – don't worry! You can book a 15-minute phone call with a student recruiter, your go-to source for questions about the admissions process, program requirements, and registration.
You can also see UFV in person by booking a campus tour, held weekly at the Abbotsford and Chilliwack campuses.
Find out more on Facebook and Instagram, call 1-888-823-8734 or email info@ufv.ca.